Made Anthony Iswara
The Jakarta Post
Strict regulations and inefficient bureaucracy continue to impede investment into the tourism sector even as Indonesia looks to the sector as a new engine of economic growth through the development of special economic zones and super priority destinations.
Investment Coordinating Board (BKPM) head Bahlil Lahadalia reiterated President Joko "Jokowi" Widodo's "do not disturb investors!" message during a recent trip to Banyuwangi, East Java.
"Many investors are attracted to the tourism sector but become entangled in strange regulations," Bahlil said last week in Banyuwangi, as quoted in a press release from the agency.
Banyuwangi, an increasingly popular destination thanks to natural wonders such as the blue flames of Ijen crater, has reaped the rewards of tourism development, with the sector providing a big boost to regional government revenue and per capita income, allowing many people to lift themselves out of poverty.
The government is looking to replicate Banyuwangi's success in other parts of the country, with presidential regulations issued to establish six tourism special economic zones (SEZs) including in Likupang in North Sulawesi and Singhasari in East Java.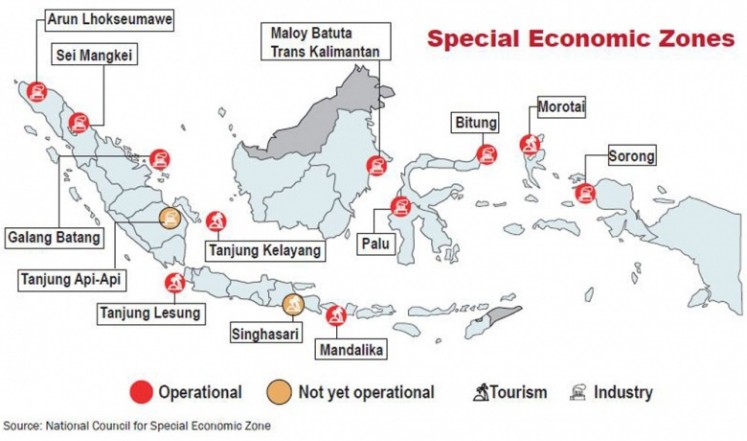 Map of special economic zones (SEZ) in Indonesia. Likupang (North Sulawesi) and Singhasari (East Java) have just recently been added as tourism SEZ, as well as Kendal (Central Java) as industrial SEZ. (JP/-)
President Joko "Jokowi" Widodo's administration has also identified five super priority tourist destinations, namely Likupang, Lake Toba in North Sumatra, Borobudur temple in Central Java, Mandalika in West Nusa Tenggara and Labuan Bajo in East Nusa Tenggara.
Jokowi's goal is to create alternative tourist destinations to Bali and attract 20 million tourists per year. In doing so, it is hoped tourism can become a new engine of economic growth, which has slowed to a two-year low, and become the largest contributor to the country's foreign exchange reserves.
However, red tape and regulatory bottlenecks continue to turn off investors.
In Banyuwangi, for instance, Bahlil cited a cable car project that has been on hold for several years because of the Environment and Forestry Ministry's sluggishness in approving the necessary permits, despite being requested by the regent more than three years ago.
Meanwhile, government institutions are busy pointing fingers.
The Tourism Ministry's assistant deputy for investment, Hengki Manurung, claimed the ministry's permit process was "easy" and laid the blame on other ministries, noting that land permits in particular were "extremely difficult" to obtain.
The environment ministry's forest use and planning director Rossi Tjandrakirana said such projects typically did not meet the necessary requirements to obtain a permit. In some cases, applicants have complained about long wait times despite not having submitted an applications at all as they were waiting for a gubernatorial recommendation, she added.
"In our [ministry], we can assure [applicants] that permits will not be delayed as long as all the requirements are met and [the application] follows the regulation," Rossi said. "It is impossible that we would delay licenses in the current era of transparency."
While government institutions may disagree over who is at fault, for many stakeholders the major problem is the excessive number of permits required.
"We are a country with a government that has the grandest regulations [as] there are regulations for everything [...] This is what complicates [investment]," Indonesian Tourism Scholars Association (ICPI) chairman Azril Azhari said on Tuesday.
In addition to a permit to set up a business, investors and business people also need to obtain environmental impact analysis (AMDAL) documentation for tourism activities and meet certain standards for their employees, Azril explained.
Companies also need specific permits for different types of tourism operations, whether they be a restaurant, a hotel or a travel agent.
The Travel and Tourism Index published last September by the World Economic Forum (WEF) ranked Indonesia 98th out of 140 countries regarding the business impact of rules on foreign direct investment (FDI), well below Malaysia (29th) and Thailand (48th) and slightly below the Philippines (93rd). The lower the rank, the more restrictive regulations are on FDI.
Indonesia fared even worse concerning the time needed to obtain construction permits, ranking 111th in the index. The report indicated that it takes approximately 200 days to handle the necessary procedures to build a warehouse in Indonesia.
Tourism businessman and former Tourism Ministry ecotourism acceleration team head David Makes added that inconsistencies between regional authorities and the central government regarding the number of licenses needed for land usage also confused investors.
The involvement of several ministries has further complicated the matter. Currently, the environment ministry handles construction and land permits in forestry and conservation areas, while the Tourism Ministry takes care of tourism business permits and the Maritime and Fisheries Affairs Ministry manages investment permits in coastal areas.
"We need a one-destination, one-management concept so that investments can be processed through a simple and accurate mechanism," David urged, adding that the BKPM's online single submission system had not put an end to the complex licensing processes.
In response to such concerns, President Jokowi directed in November all licensing to be streamlined under the BKPM.
To promote an investment-friendly climate, the government is also drafting an omnibus bill to eliminate inefficient regulations and bureaucracy.
However, the road ahead remains a long one. The development of special economic zones (SEZs) continues to progress at a snail's pace as investors remain reluctant to open factories in the designated areas despite the promise of government incentives, recent data has shown.
SEZs Investment Realization (in billions of rupiah)
As of October 2019, realized investment in the country's 13 SEZs totaled only Rp 21 trillion (about US$1.5 billion), or only about 25 percent of the total investment commitment of Rp 85.3 trillion.
Former tourism minister Arief Yahya said the country needed 120,000 more hotel rooms, 15,000 more restaurants, 100 more recreational parks, 100 more diving operators, 100 more marinas, 100 more tourism SEZs and 100,000 more homestays to boost tourist arrivals from 2019 to 2024.
In 2019 alone, the country needed to invest Rp 500 trillion (US$33.49 million) in tourism development, he estimated.
While Hengki of the Tourism Ministry claimed that investment in tourism had been "good", the government has failed to hit its targets several times over the last five years. BKPM data shows that investment in tourism steadily increased from 2013 to 2017 before falling in 2018.
With authorities championing tourism as a key to country's economic development, the government should seek investments that empower local communities, said Trisakti University lecturer Hengky Hermantoro.
The government should avoid becoming fixated on high-dollar investments that could supplant local initiatives and damage the environment, Hengky warned.
"The [quality] of investments should not always be [judged] on the amount [as] we need to be aware of the local context. A sustainable tourism concept could be our guide," said the former tourism attraction development director of the former tourism and culture ministry.