Made Anthony Iswara, Marchio Irfan Gorbiano and Riza Roidila Mufti
The Jakarta Post
Tourism stakeholders are urging the authorities to look beyond tourist arrival targets and focus on improving infrastructure and sustainability to promote quality tourism as the country has fared worse compared to several neighboring countries, according to a recent survey.
The head of Gadjah Mada University's Master's and doctoral programs in tourism studies, Muhammad Baiquni, said the government had put too much effort into attaining targets while paying less attention to quality tourism development along the way.
"We [need] to go pursue quality and sustainability, which will lure [tourists] to come [to Indonesia]. But if we chase after figures, what we offer will lack in quality. [Thus] the quantity [target] will be unachieved," said Baiquni.
President Joko "Jokowi" Widodo initially aimed for 20 million tourist arrivals in 2019, which he later revised to 18 million, a number that would not likely be achieved as tourist arrivals hit 14.92 million between January and November last year, according to Statistics Indonesia (BPS).
BPS head Suhariyanto estimated that the total number of tourists in 2019 would likely be from 16.1 million to 16.3 million. That would be the fourth consecutive year of Indonesia failing to meet its tourism targets since 2016.
Jokowi said he wanted to focus on tourism as a new engine of economic growth, especially for more equitable development in the regions, and with the trade war hitting commodity prices and manufacturing industries, the conventional sources of economic growth for Indonesia, hard.
In the past, the government has clung on its tourist arrival targets to measure its tourism success. President Jokowi had even threatened to sack then tourism minister Arief Yahya if the ministry failed to attain the 20 million mark by 2019.
To achieve the tourism targets, Jokowi had formed an agreement with Chinese President Xi Jinping to push for 10 million Chinese tourists by the end of 2019, among other measures.
The Tourism Ministry also allocated Rp 9.3 trillion (US$656.8 million) until 2020 to finance basic infrastructure development in five "super-priority" tourism destinations, the "new Balis", to attract more international tourists after it failed to meet the foreign tourist arrival target in 2018.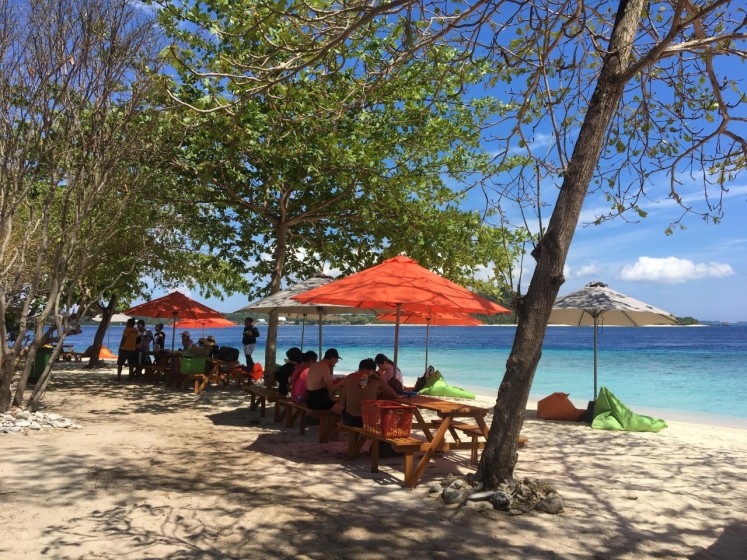 Faraway island: Tourists enjoy a sunny day on Lihaga Island in West Likupang, North Minahasa, North Sulawesi. It takes 60 minutes to drive from Manado, the North Sulawesi provincial capital, to Likupang, where tourists must then spend 15 minutes crossing the sea to reach the island. (JP/Riza Roidila Mufti)
The five super-priority destinations include Lake Toba in North Sumatra, Borobudur temple in Central Java, Labuan Bajo in East Nusa Tenggara (NTT), Mandalika in West Nusa Tenggara (NTB) and Likupang in North Sulawesi.
Amid efforts to meet tourism targets, Indonesia still displays poor performance in other areas of tourism compared to some of its peers, the 2019 Travel and Tourism Competitiveness Report published by the World Economic Forum (WEF) showed.
Indonesia ranks 12th out of 22 Asia-Pacific countries. It also placed 40th globally out of 140 countries, an improvement from being 42nd in 2017 and 50th in 2015, the biennial index published on Sept. 4 indicated.
But the country only ranks 80th place for security and safety, 98th for tourist service infrastructure, 102nd in health and hygiene and 135th for environmental sustainability, ranking lower than Singapore and Malaysia both for the competitiveness index and the four subindexes.
The people of the super-priority regions have also expressed worries about similar setbacks.
Last November, the residents of a fishing town on the island of Flores in East Nusa Tenggara (NTT) lamented that they were generally unprepared to welcome "premium" visitors because of their minimal infrastructure. The Jakarta Post also found limited electricity, telecommunications and sanitation facilities along Likupang's beaches when it visited the place in December last year.
Even the North Sumatra administration expressed pessimism in February last year about achieving the Tourism Ministry's target of 1 million foreign tourist arrivals to Lake Toba in 2019 with its infrastructure shortage.
Upon hearing feedback from experts, current Tourism and Creative Economy Minister Wishnutama Kusubandio said in a wellness tourism launch last November that the country would need to shift its focus to quality tourism, in contrast to his predecessors.
"We have to stop talking about quantity tourism [and talk about] quality instead because quality tourism will be the one that truly contributes to our state revenue, which in turn would impact more positively on our country," said Wishnutama, mentioning cultural conservation and environmental protection as two ways to promote quality tourism.
With such challenges, tourism expert Sari Lenggogeni from Andalas University (Unand) in Padang, West Sumatra, said that the government must first focus its short-term goals on regions where tourism infrastructure was readily available, naming Jakarta, Bandung, Yogyakarta, Surakarta and Semarang as examples.
In the long haul, as it develops new tourism centers, the government must map out elaborate data on foreign tourists ranging from their average spending per day and lengths of stay to other behaviors based on nationality and market type, said Sari. That way the government could link and match different target markets and improve tourism quality.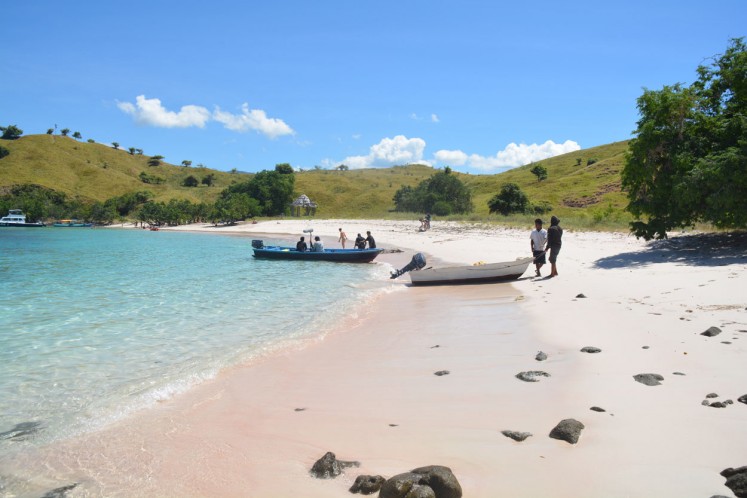 Domestic and foreign tourists are seen at the Pink Beach in the Komodo National Park in West Manggarai, Flores, East Nusa Tenggara (NTT) on May 10, 2017. The site has become a popular spot for foreign visitors who want to enjoy natural beach and underwater beauty. (The Jakarta Post/Markus Makur)
"[Without quality tourism], there will be damages. Environmental protection will crumble and there will be no sustainable tourism," said Sari, who founded the Tourism Development Center at Unand. She cited the gradual tourist shift from Bali to Lombok, caused by the former's mass tourism and environmental degradations, as an example.
The NTT administration had also planned to close Komodo National Park over ecosystem concerns, although it later canceled the plan. The park, which is an integrated destination for tourists visiting Labuan Bajo, welcomed more than 176,000 tourists from all over the world in 2018.
Indonesian Travel Agents Association (ASITA) chairwoman N. Rusmiati said on Saturday the industry group stood ready to support the government in pushing the tourism sector's contribution to the economy by promoting all 34 provinces.